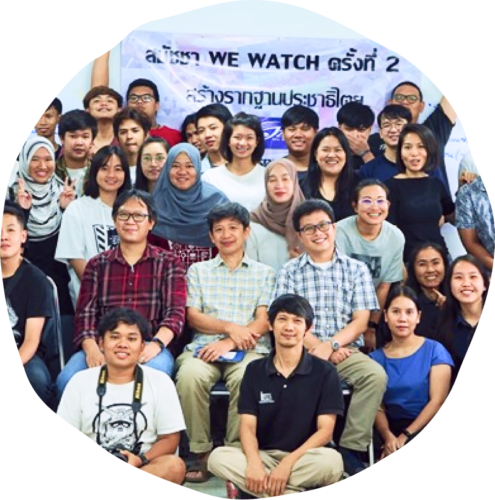 Case study
We Watch
Scaling up the next generation of democracy defenders.
We Watch is an ambitious nonprofit of young, passionate organizers who are mobilizing thousands of Thai citizens to hold their government accountable by watching and documenting elections — all with very little resources.
With the most important local elections in Thai history on the horizon, they needed to scale their organization to develop a whole new generation of democracy defenders.

AGO helped them mobilize a tech infrastructure that streamlined an engaging volunteer training, doubled the number of election reports, and set them up to build collective power into the future.
What we did
Research & insights
Strategy
Educational design
Content strategy
Tech stack training
Impact
1
New CRM stack implemented successfully for the December 2020 local elections.
1
revamped orientation session
100+
new volunteers recruited ahead of election day
100%
increase in reports on election day
Poised to protect democracy
When we first met We Watch, we were floored. Their small, scrappy team had trained over 2,500 university students and young volunteers as election observers. Amidst a volatile political environment in Thailand, they were using nonpartisan election monitoring to document democracy on the ground and advocate for major change.
Building the foundations of digital infrastructure
We Watch was doing a lot with very little. Yet the December 2020 elections would include the largest slate of local elections in Thai history, and ongoing political instability left polls particularly vulnerable.
This put We Watch in a critical position in their development as an organization, faced with an overwhelming need to scale up operations. Identifying this unique challenge, we partnered with them to build volunteer management systems that would amplify their capacity for training and engagement.
A deep dive into the volunteer experience
We connected with over 170 stakeholders and volunteers through interviews and a targeted survey, and tapped our network of local Thai experts to get a comprehensive view of election observation. Finally, we investigated the global landscape of modern training programs, to ensure any new system would stack up.
Designing an engaging, scalable training
We Watch wanted to keep the intimacy of one-on-one training, but needed room to grow. So we created, trialed, and refined a new online orientation session to deeply connect with young volunteers.
To make sure training was efficient for We Watch's small team, we developed best practices for hosting online events and orientations, and equipped the staff with the tools needed to take the reins.
Developing an intuitive system for growth
Implementing scalable, digital tools for We Watch volunteer management was key to expanding their reach. We explored a range of tech tools with a focus on CRMs and learning platforms, tested multiple options, and implemented a CRM software that could grow operations exponentially.

We also designed a new signup form for streamlined information capture, so We Watch can track engagement and get new ideas for building their movement into the future.
The work continues
The most important part of our work with We Watch was to iterate for a yearlong partnership. Together, we came up with ambitious ideas for pushing their vision forward — scaling volunteer training was just phase one. Currently, we're focusing on the We Watch brand, as we refine the face and voice of this powerful organization.
"The new tools helped us work faster and in real time to manage and filter volunteers. Training only took a few hours [normally half a day plus booking a hotel conference room!]."
We Watch
Read more
Go Unicode
Strengthening the digital future of Myanmar.
Read more →
Labour Protection Network
Equipping LPN in their fight against slavery at sea.
Read more →